Wiska produces home textiles made with APR's sustainable rayon fibre, in line with the trend towards sustainable textile fibre.
Jakarta, 9 April 2021 – PT Wiska, a producer and exporter of home textiles, has launched its first retail label for towels and bathroom products made with blends of rayon-cotton, 'Eco Pure S'. PT Wiska partnered Asia Pacific Rayon (APR) as the supplier of certified rayon fibre, based on its 3S concept (Sustainable, Strong, Soft).
Eco Pure S, as the first antimicrobial rayon-cotton towel product range in Indonesia, can also provide additional protection for users during the Covid-19 pandemic.
The Eco Pure S product range consists of towels, bathrobes, turbans, headbands, blankets and house slippers. The products are available on Shopee and Tokopedia online stores, as well as Yogya retail stores.
This year, PT Wiska plans to market the new product range through 50 retail stores across Indonesia. Consistent with the 3 S concept, Eco Pure S products maximize durability while maintaining the softness that characterizes the rayon-cotton blend of fabric.
The antimicrobial properties in the towels produced by the company can prevent microbes, bacteria, and fungi from causing various diseases. The products can also withstand repeated washing.
Eco Pure S products use biodegradable rayon fibre from APR as the fabric material. The product offers the MADE IN GREEN by OEKO-TEX® label and verifies that the material has been tested for harmful substances and certified to STANDARD 100 by OEKO-TEX®️ It also guarantees that the fibre has been manufactured using sustainable processes under environmentally friendly and socially responsible working conditions, certified to STeP by OEKO-TEX®️
Part of the RGE group of companies, APR is the largest integrated rayon fibre producer in Indonesia. RGE manages a group of resource-based manufacturing companies with global operations.
"In response to the global demand for eco-friendly and biodegradable products, we launched the Eco Pure S product range with APR's sustainable rayon fibre. This has many advantages, including the ability to prevent potential diseases during the current pandemic," said Andrew Haryanto, Owner of PT Wiska, in a talk show about 'Healthy Families Conquer Pandemic' at the Jakarta Fashion Hub, at which the new product range was launched.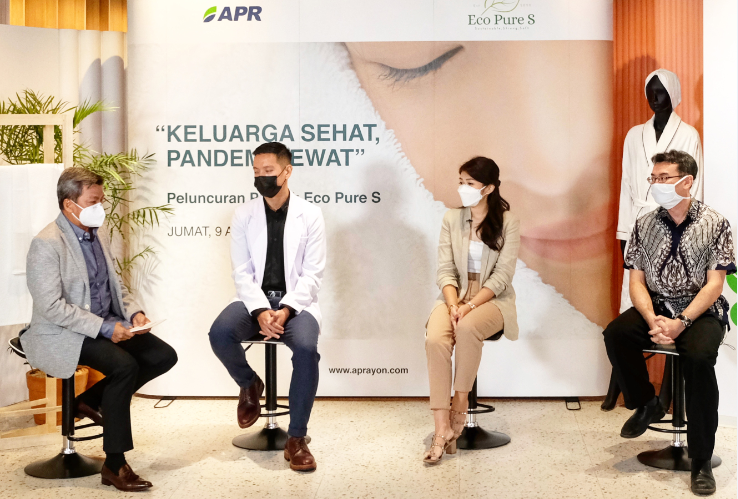 Elis Masitoh, Director of Textile, Leatherwear and Footwear at the Ministry of Industry, welcomed PT Wiska's launch of innovative new products that will also boost the home textile industry in Indonesia during the pandemic.
"We appreciate the steps taken by PT Wiska that support the government's commitment to advancing the national textile and textile product (TPT) sector as a priority industry. These Indonesian-made products are also in line with the government's effort to realize the import substitution program by shifting up to 35% of imports to domestic sources in 2022 as well as the roadmap for 'Making Indonesia 4.0' in the textile sector, "said Elis.
Elis further added that until the end of last year, home textile products have contributed 10% to Indonesia's textile and textile product (TPT) exports that reached US$10.55 billion. There are 205 home textile companies with a total of 35,720 employees that produce superior products such as towels, bed linen and curtains.
"The collaboration between APR and Wiska not only supports sustainable textile trends, but also the Government's commitment to using domestic products. This is in line with the #BanggaBuatanIndonesia campaign and the spirit of 'Everything Indonesia' adopted by APR," said APR Director Basrie Kamba.
Established in 1973, PT Wiska has built a reputation as a producer and exporter of home textile products such as curtains, blankets, towels, tablecloths, bed covers on a business-to-business basis. The products have been marketed to 80 countries, including England and Japan. The product launch was carried out after the talk show, which featured Reeza Edward and entrepreneur Merry Inggriany, who underlined the importance of safety during a pandemic.
About Asia Pacific Rayon
Asia Pacific Rayon (APR) is the first fully integrated viscose rayon producer in Asia. The factory with 240,000 tonne capacity, located in Pangkalan Kerinci, Riau, uses the latest production technology to produce high-quality rayon to meet textile needs. APR is committed to becoming a leading viscose rayon producer that upholds the principles of sustainability, transparency and operational efficiency, serves the interests of the community and the country, and provides value to customers.
www.aprayon.com
Media contact:
Djarot Handoko
Head of Corporate Communications, Asia Pacific Rayon
Djarot_Handoko@aprayon.com