Fashion Revolution Indonesia returns for its second edition, highlighting the need for ethical and sustainable decisions in the clothes we wear, from yarn to garments.
Held at the Jakarta Fashion Hub from Wednesday to Thursday, Fashion Revolution Indonesia was initiated by Asia Pacific Rayon (APR) and Closed Loop Fashion as part of the global Fashion Revolution Week, which is held in more than 100 countries worldwide.
Fashion Revolution itself was born from concerns over the working environments and low wages of garment workers following the collapse of the Rana Plaza factory in Dhaka in 2013, which was considered the deadliest garment factory disaster in the world with 1,134 deaths and 2,500 injured.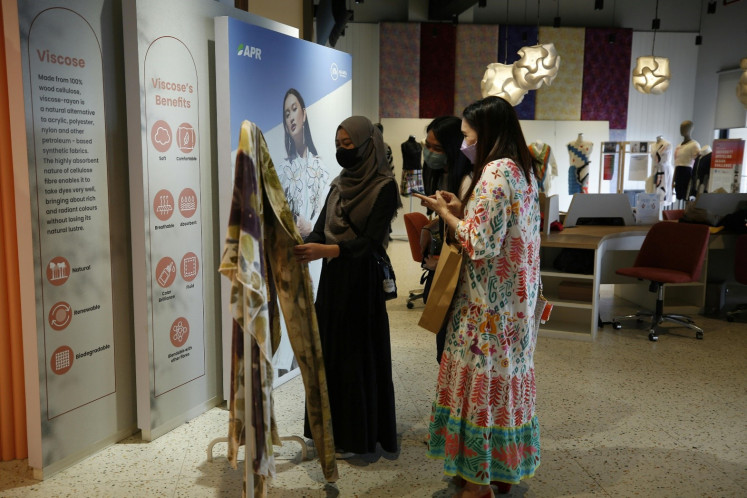 As part of APR and Closed Loop Fashion's collaboration, the second iteration of Fashion Revolution Indonesia rejuvenated calls for a fairer, more ethical fashion industry. Asia Pacific Rayon business development head Evelyn Santoso said Fashion Revolution Indonesia symbolized APR's support of sustainable and ethical fashion in Indonesia.
"We hope that the Fashion Revolution movement does not stop here and continues to be championed for a safer, fairer and sustainable fashion ecosystem," she said.
During the two-day event, 16 Indonesian labels showcased their take on ethical and sustainable fashion in a dedicated brand showcase, featuring the likes of Imaji Studio, Mylea x APAKABAR, Stain, Kin and Alley, Tri Upcycle, Abhati Studio, By Binzu, KaIND, Bell Society, Hallah, Dan Liem, Arae, Love Stories Bali, Creative Kitchen, Pijak Bumi and Toraja Melo, along with Pable, Indosole and Re-Pairs.
The same space also hosted a bazaar, showcasing five ethical and sustainable brands embodying Fashion Revolution's ethical and sustainable vision: Thread to Fabric, Inen Signature, Gajah Duduk, Batik Trusmi and Rubysh.
For example, Thread to Fabric's business model is a social enterprise, working with women who used to be workers for garment factories. According to Thread to Fabric founder Felicity, the factories are often plagued with numerous issues, from low wages to exploitative practices such as 48-hour shifts.
"My approach was asking them what they think a T-shirt is worth, how much they should be paid and what they ask for is the rate that I pay them," she said.
Felicity noted that one of the main challenges when moving to a fairer and more ethical mode was a higher price tag, which could stem from business and creative decisions to opt for more eco-friendly materials. Thread to Fabric itself utilizes Tencel fabric and recycled polyester fabrics, while its dyes are certified Oeko-Tex Standard 100.
"When I started this, I had a lot of people tell me that in Jakarta and Indonesia, people are not ready for this — they're not prepared to pay. But I can see that there is a shift, and they are prepared to pay a little bit more for these values."
For a more hands-on approach to sustainable fashion, the second Fashion Revolution Indonesia also held two workshops centered around dyeing fabric: Japanese shibori with Binzu on Wednesday and eco-print with Inen Signature on Thursday.
Bintang Aziizu, the founder of Binzu, said the workshop utilized natural indigo dyes, which he found to be less harmful to the skin compared to synthetic dyes. Along with the health hazards for artisans, he continued, synthetic dye residues were also harder to clean and not as environmentally friendly.
"I hope that through the event, people will become more aware and open toward natural dyes while also gaining the skills to become creative at home, as shibori can be used to give new life to old clothes," he said.
Even so, old clothes do not necessarily need to be altered to find a new life, as they can be swapped among a community of like-minded people who will appreciate them. Zero Waste Indonesia's #TukarBaju (#ClothesSwap) campaign also set up shop during Fashion Revolution Indonesia, with visitors able to exchange their clothing for others, giving them a creative way to reduce textile waste while also receiving the chance to get a new wardrobe. Also in the same vein is upcycling, which reuses waste materials to create something new. This topic was discussed in a talk show and webinar titled Upcycling Fashion: The Art of Designing With Waste Materials, with panelists including Closed Loop Fashion founder Marina Chahboune, designer and creative director Toton Januar and Binus Northumbria School of Design fashion program head Ratna Dewi Paramita.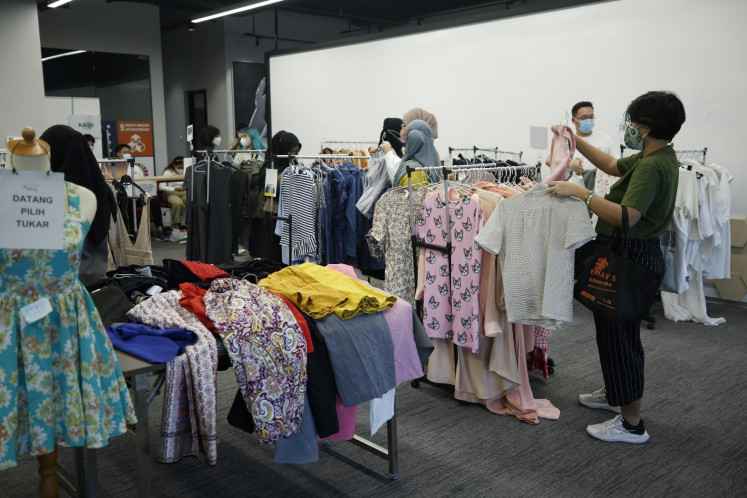 Visitors attending the event also found upcycled fashion inspiration from a special showcase featuring the work of a number of students from the Bandung Institute of Technology (ITB) and Binus Northumbria University, while fashion enthusiasts Dilla Probokusumo and Fiza Khan also campaigned for the importance of ethics and sustainability in the industry.
Closed Loop Fashion founder Marina Chahboune said Fashion Revolution Indonesia aimed to create awareness about sustainability and greater circularity in the local fashion and textile industry.
"We share a common goal of bringing like-minded people together by providing a platform to connect, exchange ideas and be inspired," she said. This article is joint collaboration with The Jakarta Post and APRIL group.
Source: Fashion Revolution encourages ethical production, purchase of clothing – Economy – The Jakarta Post